There's nothing better than getting that Christmas feeling by enjoying some seasonal cheer during the countdown to the big day. Check out our top 10 festive things to do this December …
1. Decorate a Christmas Tree
Whether you're the person who has their Christmas tree decorating done by December 1st with military precision, or like to leave it a little later and have a carefree approach to tinsel and bauble colour schemes, nothing gets you in the mood for Christmas quite like putting up the tree.
2. Go Ice-skating
Put on your snuggest hat, scarf, gloves and get your skates on. With festive ice-rinks in lots of locations you can have fun on the ice this December.
3. Have a Christmas Jumper Competition
Everyone loves a novelty knit this time of year. With National Christmas Jumper Day around the corner on 15th December get your friends, family and colleagues involved and bask in the comfort of a seasonal sweater.
4. Wrap Up Warm For a Winter Walk
Winter is a beautiful time of the year, so a long walk in the crisp December frost is the perfect way to spend an afternoon. Treat yourself to a luxury hot chocolate and a pair of cosy faux fur slippers when you return home!
5. Visit Hyde Park's Winter Wonderland
We couldn't leave this one off our list. Yes, Winter Wonderland is back for its 10th year running and it's bigger and brighter than ever. Visit Hyde Park in December to see it transform into all things Christmas; with lights, endless amounts of food stalls and fun fairground rides.
6. Bake Festive Treats
Instead of buying your Christmas treats, spend a day indoors baking them yourself. Turn up the Christmas tunes and sing-a-long whilst you chop, whisk and decorate your fave festive delights.
7. Drink Mulled Wine At a Christmas Market
'Tis the season to be jolly! Wander around a Christmas Market with a cup of mulled wine to keep you warm and merry and soak in all the joyous atmosphere this season has to offer.
8. Binge Watch Your Fave Christmas Films
We've all got our faves. From Elf to Home Alone, The Polar Express to Love Actually, whichever is your feel good festive film, snuggle up under a blanket with your loved ones and watch your embrace the festive spirit.Why not go all out and make a day of it with a movie marathon?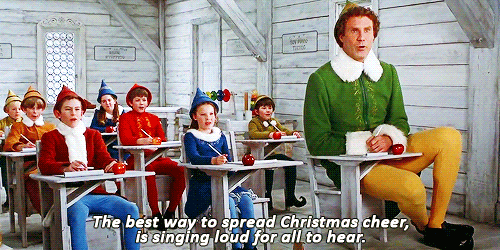 9. Go To A Christmas Light Show
Check out the various Christmas lights that are brightening your streets. Whether it be a planned light show in your area or taking an evening drive around the houses to spot the best dressed display, enjoying Christmas lights will be sure to get you in the mood for the festivities ahead.
10. Make A Snowman
We can all keep hoping for a White Christmas! If you're lucky enough to get some snowfall this December make the most of it and have fun building a snowman.

(Image credit: Rex, giphy)